easyTherm® infrared panels
With easyTherm® infrared heaters, you are entering the heating of the future! Heating with electrical power, which can be generated locally by photovoltaics, wind power or hydropower, is clean and highly efficient - so you not only protect the environment, but also your wallet. Thanks to the maintenance-free technology of the easyTherm® infrared panels and the use of high-quality materials, you will enjoy cosy warmth and worry-free operation for decades.
Advantages of easyTherm® infrared panels
Highly efficient, robust ceramic surface
High amount of heat radiation on the front side
Tailor-made heating solutions for every room size
Suitable as complete heating system or supplementary heating
Soothing, healthy infrared heat
Optimum air humidity and low-dust room air
We make no compromises in the development and manufacture of easyTherm® infrared panels: Innovative and proven technology ensures the highest efficiency and outstanding quality. In addition, we manufacture our heating panels in different sizes and variants, so that at easyTherm® we can always offer you the right heater.
Infrared panels with safety guarantee
All easyTherm® infrared heating panels are 100% manufactured in Austria to the highest quality standards.
Not only are innovative high-end materials used, but special emphasis is also placed on safety: Each easyTherm® infrared panel is individually tested for you according to the valid safety guidelines. This results not only in a unique heating efficiency of the heating panels, but also in an incomparable durability.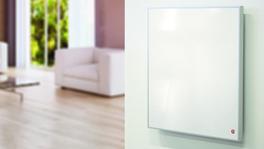 Ceramic - radiant heat like from a tiled stove
It is a law of nature (Planck's law of radiation) that all surfaces permanently emit thermal radiation. The emitted radiation spectrum depends only on the temperature and a single material property: emissivity. This describes the ability of a surface to emit thermal radiation. This is particularly high for ceramics.
With heat radiation, such as from a tiled stove or an infrared heater with real ceramics, it is not so much the air that is heated, but primarily the room envelope, furnishings and the person themselves. These reflect the heat radiation. This creates an even heat from everywhere in the whole room. The temperatures under the ceiling are only slightly higher than on the floor. The feet are warm. In the past, as today, we find this very pleasant and beneficial.
easyLight: LED light frame for the infrared heating panels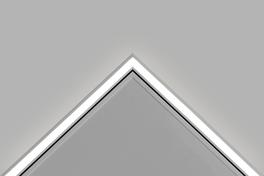 Only with easyTherm® is it possible to supplement the infrared panels with a light frame. The easyLight LED light frames provide pleasant room lighting with efficient light radiation. Indirect ambient lighting is also possible. Of course, both the light colour and the brightness are adjustable.
The light can also be switched on and off via a light switch, so the easyTherm® lighting and heating solution is no longer noticeable when it is switched off.
Interested in highly efficient infrared panels?
We look forward to hearing from you!
Advice from a specialist
Comfortable tiled stove heat
Many design options