Proper planning – exact calculation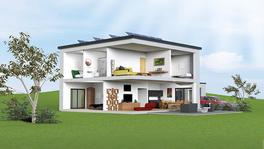 For a heating system to work well, it must be calculated accurately. Experts call it "heating design". We do it for you – according to standard. Then you can be certain – with guarantee!
Where should I install an easyTherm heater? How many infrared panels do I actually need? What options are there?
The heating system is built to measure and in accordance with your living situation. This is done using planning documents or new sketches and measurements. The design of the panels is as important as their positioning. After all, both heating performance and design must be optimal – everywhere in the home. This system offers far more freedom and requires less space than other heating solutions.
In conclusion: Economic and cosy warmth is getting more and more beautiful. Thus planning your project will already make you happy and, with easyTherm, you can look forward to a comfortable future.
Exact dimensioning saves additional money. Many heaters are oversized by design, could warm up a room twice the size and are correspondingly expensive. With easyTherm, everything is calculated very accurately and the effect is ensured by mounting the panels optimally. Thousands of easyTherm customers are first delighted by the simple elegance of the panels, then by the pleasant warmth, and finally by the attractive heating costs. Please pass it on!
Here is a calculation example
Value
easyTherm
Central heating with heat pump
(water/water)
Central heating with pellet boiler
Connected value/performance
3,875 Watt
4,000 Watt
10,000 Watt
Investment costs incl. installation

€13,200.00
(without photovoltaics)
€30,000.00
(without utility room)
€33,000.00
(without utility room)
yearly consumption costs
(incl. solar gains)
€550.00
(without photovoltaics)
€370.00
€515.00
yearly operating and maintenance costs
(incl. repairs over 20 years)
€5.00
€250.00
€450.00–550.00
total yearly running costs
€555.00
€620.00
€1,015.00
total costs over 20 years
€24,300.00
€42,400.00
€53,300.00