Accurate calculation instead of guessing is the secret of a smoothly working heating system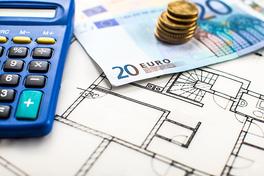 A good and efficient infrared heater must be precisely calculated – the experts call it "heating design".
Because only then can you be absolutely sure that you get comfort in an efficient way and have invested your money wisely. Therefore easyTherm calculates each heater in conformity with standard EN 12831.
That makes it difficult to communicate individual prices per panel – because you want to have a solution and not buy individual parts.
All essential cost factors are taken into account with a professional heating design such as is included in the service package of easyTherm and its partners: Acquisition costs, financial costs, operating costs for service, maintenance, supply and storage as well as the consumption costs of the heating requirements.
Each living situation is different. For a heating system to work well, it must be calculated and designed accurately. Don't hesitate to arrange for a consultation that puts you under no obligation and have the high-tech infrared heater be tuned precisely tailored to your living situation.
Make the comparison yourself!
We have listed for you specific examples of current projects below that give you an idea about investment costs and the required products. For better understanding we have defined the most important terms and key figures in a key .
Heating demand (HWB)
On cold days, a building is supplied with heating warmth in order to bring the inside temperature to a level that is pleasant for the inhabitants. This is also called heating demand. It specifies the calculated amount of energy to be supplied to a building within the heating period in order to maintain the desired indoor temperature (standard = 20°C). This heating demand can be further reduced by minimising heat losses through good thermal insulation, for example, and maximum solar heat gains.
Connected value
The term connected value (or power input) of an electrical appliance is the maximum electric power that can be obtained from the mains. In our example calculations, we have added the power inputs of the individual panels to calculate the power consumption.
Energy demand (in kWh)
Energy demand or energy consumption refers to the consumption of energy sources, e.g. the consumption of fuel oil, natural gas or electric energy. Of special interest is the energy content of these sources, or the energy amount released, e.g. as heat, also known as heating value or calorific value. This enables a direct comparison between the consumption of different energy sources.
Solar gains
When the sunlight strikes a building, this results in the input of heat into the building. Most of these solar gains are made through the windows through which the sun energy can penetrate. This solar energy is absorbed and converted into heat in the room. The heat is then distributed in the room and basically works the same as the heating supplied by other energy sources.