CURRENTLY NOT AVAILABLE ++ CURRENTLY NOT AVAILABLE ++ CURRENTLY NOT AVAILABLE
Infrared Heater Picture
The special design: Infrared panels with picture!
With the help of a new technology, easyTherm has succeeded in burning images onto the easyTherm infrared heaters. In a complex, multi-stage process, the images are burned onto the surface in ceramic quality using innovative technology. The basis for this is the extremely robust, scratch-resistant and chemically resistant ceramic coating. This process guarantees the emission of heat waves with the highest possible effectiveness. A 3D bright annealed stainless steel rear panel prevents the emission of heat waves at the back. Conscientious tests and quality controls result in a heat panel for the highest demands, long service life, maximum effectiveness and extreme reliability - simply easyTherm.
ceramicPrint - Personalised Images
Personal, individual images on the infrared panels. After intensive development phases and product tests, any subjects, pictures or photos can now be applied with the unique easyTherm radiation at the customer's request. The solution is called ceramicPrint.
Your favourite motif is burned into the ceramic surface in a complex, multi-stage process.
The excellent radiation properties of easyTherm infrared heating remain 100% intact.
High quality and longevity of your image.
Comfortable and healthy warmth - no evaporation of unhealthy substances, as is possible with cheap printing processes or glued-on motifs
Individual design of your home.
artWarming - The Art of Heating
With artWarming, easyTherm offers high-quality art and a high-quality infrared panel at the same time! artWarming - the infrared heating as an investment. easyTherm stands out even further from the market with this art edition and will in future offer valuable art by contemporary artists - in ceramic quality - with all the well-known easyTherm advantages.
Internationally acclaimed artists Jure Cekuta & Christine Kertz
The exclusivity is not only reflected in the selection of artists, but also in a strictly limited and certified edition of 99 pieces.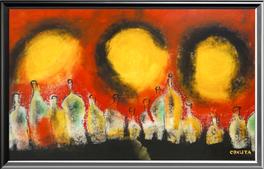 Jure Cekuta's paintings have fetched top prices of up to a million dollars during his lifetime and his art has been exhibited alongside works by Picasso as well as in the Vatican.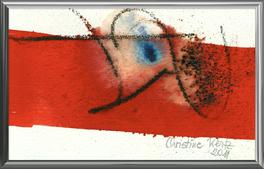 Christine Kertz is a recognised Austrian artist. She is also considered an Austrian ambassador in matters of art. Since 1991, her paintings have been shown at numerous exhibitions and international art projects.