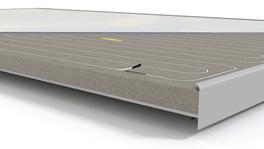 For an infrared heater – that is, a radiation heater – to work properly, training as a heating engineer, building services engineer or specialist in thermodynamics is not the only prerequisite. In-depth knowledge of the mode of action of electromagnetic waves (like light, infrared waves are electromagnetic waves), their propagation and their interaction with surfaces is also needed. Communications engineers and photonics specialists are the right people for this; they are on board at easyTherm.
So one thing is clear: a front made of ceramic materials and a back made of bare metal without any oxide layer – the best is 3D bright-annealed stainless steel – are needed for optimal results. Equally important are the components that have been developed in collaboration with recognised research institutions such as the Fraunhofer Institute. After conscientious development and equally conscientious design and precision manufacturing, you will enjoy the qualities of the product unchanged for many decades.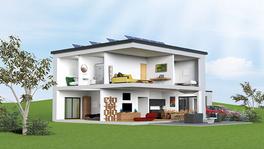 All the usual heaters consist of heat production, heat distribution, heat emission systems and controls. The easyTherm infrared heater does not require its own distribution system; the existing 230 V power line suffices. Heat production and heat emission are combined efficiently in an infrared panel, so 100% of the (electric) turns safely into heat – with easyTherm, it is to the highest possible degree infrared heat.
Controls also have an impact on energy conservation and comfort. The thermostat systems by easyTherm have been fine-tuned to the mode of action of infrared. No maintenance also makes life easier and cheaper. With the overall system, you will experience comfort and save energy and costs at the same time.
Even the best functionality of equipment and systems is not sufficient to achieve comfort. The infrared heater interacts with rooms and buildings. So easyTherm engineers and partners incorporate all building data in the calculation of heating loads. In the case of new buildings, this is done free of charge and without obligation to the customer by studying the building plan; existing buildings are conscientiously examined on site.
The collected structural-physical properties, the climate at the location and your individual usage patterns are included in the calculations of heating loads and in the submission of the proposal. For you: a free way to the best heating system ever!

Once the aforementioned 3 components (products, system and solution) have been determined by easyTherm and its partners, you will enjoy comfort with up to 70% energy conservation compared to conventional heating systems. In a newly built house (150 m², energy index 30), for instance, you'll need only about 3,500 W power supply (no more than 2 hairdryers).
But easyTherm can do even better: 4-fold safety 5-year guarantee, efficiency, safety and security and easy-living freedom from electrosmog.
We keep our word!
| | easyTherm | other IR heaters |
| --- | --- | --- |
| body made of contaminant-free foam glass granulate | | |
| heating wires made of 6,000 carbon fibres | | |
| patented highly effective ceramic surface | | |
| 96% emitted forward, and only 4% emitted backward | | |
| 70% energy yield in the form of heat waves | | |
| system consulting with heating design included | | |
| produced in Austria: | | |
| area-wide partner network | | |
| heating load calculation conforming to standards | | |
| ceramic joining material instead of adhesive | | |