Comfort thanks to quality.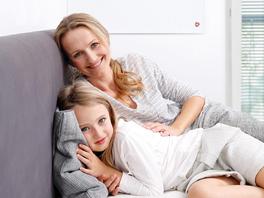 What makes us different:
Body made of silicon oxide – environmentally-compatible recycled glass
Heating wires made of 6,000 carbon fibres – durable high-tech solution
Surface made of ceramics – patented coating
96% radiation frontwards – heats the room, not the wall
Comprehensive system consultancy included
No radiation stops
easyTherm panels produce precisely those waves that warm us up gently and pleasantly from the inside and ensure an optimum level of the radiation effect. This excludes some things that might act as a radiation stop.
That's why we use as a surface material
no glass
no painted metal
no mirrors
or other materials that shield too much of the effect. The only sensible material for the surface is made of ceramic materials – easyTherm has perfected and patented it with PolyVision®.
Thanks to its unique construction and the use of high-quality materials, easyTherm is a leader in terms of effectiveness and energy efficiency.
This results in Well-being and relaxation thanks to a healthy living climate.