Mobile infrared heating - free-standing panels
Mobility is also in demand for infrared heaters. So if you are looking for a simple heating system and don't want to set up in a specific place in your home, a mobile infrared heater is the ideal solution. With our emotion stand panel series, the heat is exactly where you are. Ideal as a mobile additional or workplace heater, especially for the transitional period.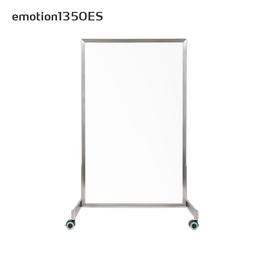 easyTherm advantages
Exceptionally durable and long-lasting

Efficient heating for residential and commercial premises
All parking heaters are available in a wide range of variants. Depending on the format and size, you can choose from several colours for the surface. Even a picture print with special ceramics directly on the heater is possible. The extremely stable frame including the feet is available in different types of wood in lacquered or oiled finish.
If you do not want to position or install the infrared heater in a fixed location, then it is best to use our floor heaters with castors. As mobile infrared heaters, these can be set up flexibly and can be adjusted quickly and easily at any time. This way, you will always be pleasantly warm wherever you want it.
We also offer a range of different designs for mobile infrared heaters. In addition to different colours for the surface, there are even different frame designs, either made of stainless steel or a combination of stainless steel and wood.
Areas of application for mobile infrared heaters
Mobile infrared heating can be used where there is no fixed heating or the current heating output is not sufficient. Infrared floor heaters are particularly suitable for the following areas of application: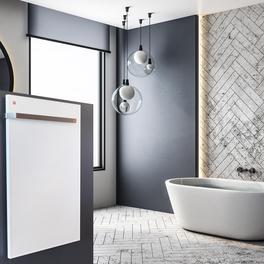 In the bathroom, our infrared stand panels are a good choice. The position can be changed at any time and placed, for example, directly in front of a moisture-prone wall. In this way, the formation of terrible mould can be specifically prevented.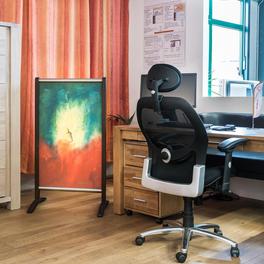 On cold days, when you are sitting at your desk, you may want a little more warmth. An infrared stand panel is a space-saving and lightweight heating solution that can provide the heat you need under your desk in no time.
Interested in mobile infrared heaters?
We look forward to hearing from you!
Advice from a specialist
Cosy tiled stove warmth
Quick and easy assembly